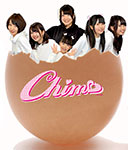 Chimo (チャイモ) is a Japanese idol group formed in 2007.
It currently consists of 6 members.
The leader is Riko.
The unit is based in Oita in the prefecture of the same name.
They perform regularly at Chimo Cafe.
Chimo is an acronym for "Challenge (Change, Chance) In My Oita".
Initially the girls were supposed to leave the idol group when they graduated from high school, but this rule was abolished in 2012.
Chimo is a sister group of Niimo.
Former members Eto Misa and Hatanaka Seira withdrew in 2011 to join Nogizaka46.
Nonoko graduated in December 2013 in order to join Galette.
Profile
Chimo (チャイモ)
Years active : 2007 – present
Label : Bedroom Records
Agency : Little Box Chime Entertainment
Members
Akane (あかね)
Rio (りお)
Riko (りこ)
Yuuka (ゆうか)
Ami (あみ)
Mio (みお)
Former Members
Misaki (みさき)
Sakicharu (さきちゃる)
Makoncho (まこんちょ)
Izumi (いづみ)
Ran (らん)
Yuria (ゆりあ)
Eto Misa (衛藤美彩)
Hatanaka Seira (畠中清羅)
Riho (りほ)
Haruka (はるか)
Nonoko (ののこ)
Ayaka (あやか)
Monika (もにか)
Rina (りな)
Momoko (ももこ)
Discography
Singles
14/03/2010 : We Are C.H.I.M.O Yeah!! / Best★Friend
14/03/2010 : Seishun Survivor (青春サバイバー)
18/03/2012 : Koi no Doki Gaku Setsumei / 1009% Chimode (恋のドキ学説明 / 1009% Chimode)
22/08/2012 : Nachu (なチュ)
07/08/2013 : Onsoku Seito Techou (音速生徒手帳)
Albums
18/05/2011 : Watashitachi Chimo Desu (わたしたちちゃいもです)
Links
News