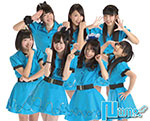 Niimo is a Japanese idol group formed in 2012.
It currently consists of 7 members.
The unit is based in Oita in the prefecture of the same name on the island of Kyushu.
Niimo an acronym for "New Impact In My Oita".
It is a sister group of Chimo.
Biography / History
Niimo was formed in September 2012.
Tomoka and Saaya were transferred from Chimo.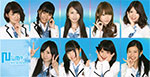 Aika withdrew in February 2013.
Niimo released their debut single Let's Fly Away in April 2013.
Mayu acted in the movie Sea of Love ~Itoshima ni Miserarete~ (Sea of Love~いとしまに魅せられて~) in late 2013.
Mayu also appeared in a TV commercial for Kyushu Ramen (九州ラーメン和).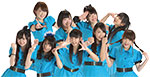 Nana quit in December 2013 in order to focus on her studies.
Niimo's 4th single Zenryoku Koi Moyou (全力恋モヨウ) was the first one to be on sale nationwide.
Tomoka and Mayu graduated in September 2014.
Niimo's 5th single Renai Vibration (恋愛バイブレーション) was released in March 2015.
Chiho and Honoka announced their graduation in April 2015. Chiho tooki this decision after a hiatus discussions with her family. Honoka had to stop her activities due poor physical health.
Neo withdrew at the same period. She also had health problems.
Yuri graduated in April 2015.
Natsumi, Syuna, Aine and Urumi joined the idol group as new members in June 2015.
Profile
Niimo (ニーモ)
Years active : 2012 – present
Label : CEC Records
Agency : Beat Agency
Members
Shiori (しおり)
Saaya (さあや)
Misaki (みさき)
Natsumi (なつみ)
Syuna (しゅな)
Aine (あいね)
Urumi (うるみ)
Former Members
Aika (あいか)
Nana (なな)
Minae (みなえ)
Tomoka (ともか)
Mayu (まゆ)
Chiho (ちほ)
Honoka (ほのか)
Neo (ねお)
Yuri (ゆうり)
Nanaka (ななか)
Discography
Singles
06/04/2013 : Let's Fly Away
14/07/2013 : Natsu Koi Speed (夏恋スピード)
26/04/2014 : Master Key (マスターキー)
23/07/2014 : Zenryoku Koi Moyou (全力恋モヨウ)
11/03/2015 : Renai Vibration (恋愛バイブレーション)
Albums
Links
News