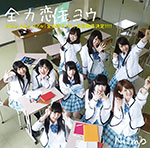 Niimo's new single Zenryoku Koi Moyou (全力恋モヨウ) was released on July 23.
This is the 4th single from Niimo. It is a pop song usually performed by the idol group from Oita, Kyushu, at their live performaces.
Check out the music video.
The CD contains 4 songs and their instrumental versions.
Only one edition is available.
It is a nationwide release.
Tracklist
Zenryoku Koi Moyou (全力恋モヨウ
Koko Light (ココライト)
Kuusou Motion (空想モーション)
New Day
Zenryoku Koi Moyou (全力恋モヨウ) (off vocal version)
Koko Light (ココライト) (off vocal version)
Kuusou Motion (空想モーション) (off vocal version)
New Day (off vocal version)
Music Video (PV)