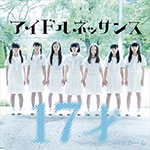 Idol Renaissance's 1st single 17 Sai (17才) was released on July 6.
This single marks the debut of Idol Renaissance. The theme is "masterpiece renaissance".
The MV has been unveiled.
17 Sai (17才) is a cover of Base Ball Bear's song.
The coupling track Dokan (どかーん) is a cover of 1990's song by Brothers.
The filming of the music video was done in various places in a high school such as classroom, gymnasium, hallway… The members of the idol group act as students. They show their innocence.
However, video viewing is restricted to some countries.
Only one edition is available. The CD includes 2 songs.
Tracklist
17 Sai (17才)
Dokan (どかーん)
Music Video (PV)