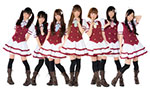 Danceroid announced that the idol group is going to disband in late July.
Their agency explained that it was the will of the members after discussions with them. The girls' contracts will terminate on July 26.
Danceroid's leader Itokuroka thanked the fans for their support and apologized for this surprise announcement.
Danceroid were formed in 2009. The idol group became popular by posting videos on Nico Nico Douga and YouTube.
We wish them all the best for their future activities.