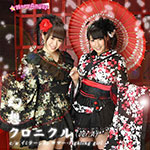 Mary Angel's new single Gensou Chronicle (幻想クロニクル) will be released on July 2.
This is the 8th single from Mary Angel.
The photos of the various covers have been unveiled.
The tracks are described as Japanese dance rock songs.
3 versions are available. The track listing is the same for each one of them. Only the CD cover is different.
The CD contains 3 songs and their instrumental versions.
Moreover, Mary Angel will hold several live performances across Japan (Kansai, Nagoya, Tokyo…) in June and July in order to promote this single.
Tracklist
Gensou Chronicle (幻想クロニクル)
Imitation Summer (イミテーション サマー)
Fighting Girl
Gensou Chronicle (幻想クロニクル) (Instrumental)
Imitation Summer (イミテーション サマー) (Instrumental)
Fighting Girl (Instrumental)