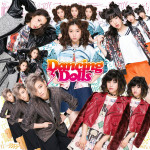 Dancing Dolls' new single Michi no Sekai e / Odoru Kokoro (ミチノセカイヘ / オドルココロ) will be on sale on August 26.
This single is a double A-side.
It is the sequel of My Way / Love Me, Love Me released in March.
Odoru Kokoro (オドルココロ) is a pop tune. It features samples from nobodyknows+'s song Kokoro Odoru (ココロオドル).
The limited edition comes with a DVD featuring the dance-shot version of Michi no Sekai e (ミチノセカイヘ) and bonus footage.
In addition, Dancing Dolls Live Tokyo DanDoll Mitsuru (東京ダンドル充) will be held on September 12  at Eggman.
The members of the idol group are going to participate in a series of release events from August 26 to 30 in Osaka, Nagoya and Tokyo.
Tracklist
 CD

Michi no Sekai e (ミチノセカイヘ)
Odoru Kokoro (オドルココロ)
Koi no Memory (恋のメモリー)
DVD

Dance Choreography Video & Fudan Doll Movie vol.1 (振付ビデオ&ふだんどるむ~び~vol.1)
Music Video (PV)