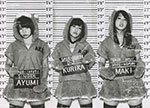 Ayumikurikamaki's 3rd single Shunyuu Forever (心友フォーエヴァー) will be on sale on November 25.
The new profile picture of the idol group has been revealed.
Singer Ayumi, DJ Kurika and hype-woman Maki seem to have been arrested and appear as prisoners.
Ayumikurikamaki's fans, also known as Matagi, are trying to guess meaning of the mysterious numbers that the "bear girls" have.
The lyrics of Shunyuu Forever (心友フォーエヴァー) were written by Tenguboy and Miss Monday.
The B-side track Mori Mori Mori (森森森) is the theme song for the movie Bittare! (びったれ!!!) which will be released in theaters in November in Japan. It was written by Tanaka Hidenori.
The music of these 2 songs was composed and arranged by Apazzi & U.M.E.D.Y.
As for their previous single, Masuo Yoshio (drums / Back Drop Bomb), 4106xxx (bass / Scafull King, Braziliansize) and Pablo (guitar) participated in the recording.
The limited editions come with either a Blu-ray featuring live footage, or a DVD featuring some MVs, their making-of and a bonus video.
In addition, Ayumikurikamaki are going to hold a mini live tour from August 30 to September 26. Concerts are scheduled in Tokyo, Yokohama, Saitama and Nagoya.
Tracklist
Type A / B

CD

Shinyuu Forever (心友フォーエヴァー)
Mori Mori Mori (森森森)
Shinyuu Forever (Instrumental)
Mori Mori Mori (Instrumental)

Blu-ray (A)

Live Footage from Bokura no ~Iyo Iyo Hatsugatsuo ga Oishii Kisetsu Desu yo ne (ボクらの熊魂2015 ~いよいよ初鰹が美味しい季節ですよね編~) (2015.4.26)

DVD (B)

Shinyuu Forever (Music Video + Making)
Killla Tune ( (Music Video + Making))
AKM no Private Movie Part 2 (AKMのプライヴェート映像 Part2(仮))
Regular Edition

CD

Shinyuu Forever
Mori Mori Mori
Suteki na Sekai
Shinyuu Forever (Instrumental)
Mori Mori Mori (Instrumental)
Suteki na Sekai (Instrumental)
Music Video (PV)