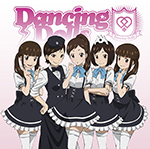 Dancing Dolls' new single Monochrome will be released on May 21.
This is the 5th single from Dancing Dolls.
Monochrome is the opening theme song for the anime Soul Eater Not! (ソウルイーターノット!).
The lyrics were written by kz (livetune). The music was composed by megrock.
The MV has been released. However the viewing is restricted to some countries.
2 versions are available.
The CD contains 3 different songs.
The limited edition includes the anime version of the lead song and a bonus DVD featuring the music video.
Tracklist
Regular Edition

CD

Monochrome
XX
Mirai Star Road (未来スターロード)
Monochrome (Instrumental)
Limited Edition

CD

Monochrome
XX
Mirai Star Road (未来スターロード)
Monochrome (Anime ver.)
Monochrome (Instrumental)

DVD

Monochrome (Music Video)
Music Video (PV)