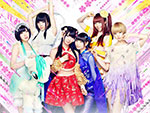 Dempagumi.inc appeared in a CM for Samurai cup noodles along with wotas.
In this TV commercial, wotas are compared to modern samurais. Instead of serving a lord with swords, they are devoted to their favourite idols like Dempagumi.inc with glowsticks.
Check out these funny videos and making-of footage. They are subtitled in English.
The song Chururi Chururira (ちゅるりちゅるりら) is performed by Dempagumi.inc. The video includes scenes recorded during a live performance of World Wide Dempa Tour held the idol group from Akihabara.
TV CM
Making-of