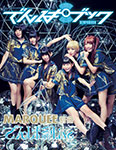 Dempagumi.inc released Dempa Book (でんぱブック) on September 11.
Dempa Book traces the history of Dempagumi.inc.
It includes photos and interviews with the 6 members of Dempagumi.inc (Furukawa Mirin, Aizawa Risa, Yumemi Nemu, Naruse Eimi, Mogami Moga, and Fujisaki Ayane), pictures of their costumes and their goods.
It also features comments from 89 celebrities including other idols such as Arai Minami (Up Up Girls), Suzuki Airi (°C-ute.), Takahashi Mari (Dorothy Little Happy), Matsumura Kurumi (LinQ), Michibatashi Rio (BiS), Megu (Negicco).
The book has 184 pages. It is published by Marquee Inc.
Furthermore, Dempagumi.inc's new single W.W.D II will go on sale on October 2.