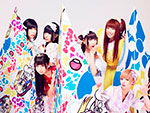 Dempagumi.inc released a new song titled Not Bocchi… Natsu (ノットボッチ…夏) on July 16.
It is a funk song.
This digital single is only available on iTunes and Mora.
It was suddenly announced on Dempagumi.inc's radio show Bibi to Denpa Jack Now! (ビビッと☆でんぱジャックなう!) and released the following day.
The song was written and composed by Maeyamada Kenichi.
Tracklist
Not Bocchi… Natsu (ノットボッチ…夏)
Music Video (PV)