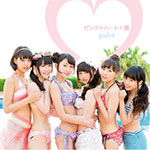 Palet's new DVD Pink no Heart no Kumo (ピンクのハートの雲) is released on July 17.
It features the music video of the new song from Palet.
It also includes 6 other versions of the clip, one for each member of the idol group, and TV spots.
This new song is only available on DVD at the moment.
Furthermore, Palet's live DVD Seven Destiny ~Hikari no Michi e~ Otsuka Hikaru Graduation Live (Seven Destiny ~光の道へ~ 大塚光 卒業ライヴ) is on sale since June 9.
Tracklist
Pink no Heart no Kumo (ピンクのハートの雲)
Pink no Heart no Kumo (ピンクのハートの雲) (Fujimoto Yui ver.)
Pink no Heart no Kumo (ピンクのハートの雲) (Kimijima Mitsuki ver.)
Pink no Heart no Kumo (ピンクのハートの雲) (Hiraguchi Miyuki ver.)
Pink no Heart no Kumo (ピンクのハートの雲) (Takeda Saki ver.)
Pink no Heart no Kumo (ピンクのハートの雲) (Kimoto Mizuki ver.)
Pink no Heart no Kumo (ピンクのハートの雲) (Igusa Riona ver.)
Pink no Heart no Kumo (ピンクのハートの雲) (15-second spot)
Pink no Heart no Kumo (ピンクのハートの雲) (30-second spot)
Music Video (PV)