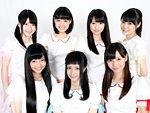 Palet will release the DVD Seven Destiny ~Hikari no Michi e~ Otsuka Hikaru Graduation Live (Seven Destiny ~光の道へ~ 大塚光 卒業ライヴ) on June 9.
The DVD contains the concert held by Palet on March 24 at Mont Rainier Hall in Tokyo.
The graduation ceremony of Otsuka Hikaru was held during this live event.
The DVD also includes bonus footage such as music videos and TV spots.
Setlist
< Hikari no Michi e ~Sotsugyou Happyou~> (<光の道へ~卒業発表~>)
Opening SE
My First Lover (マイ・ファースト・ラヴァー)
滲色ホライズン
Give You Love♡
< MC1 >
I Miss You
Yubikiri
< MC2 >
Runner
Mune no Button (胸のボタン)
Hashittemita (走ってみた。)
Celebration ~Tokimeki Good Time~
Ichigo Kibun (イチゴ気分)
Fly Away
Sugiteiku Subete ni (過ぎていく全てに)
< Tegami > (<手紙>)
Namida Hitotsubu (涙一粒)
< Otsuka Hikaru Saigo no Message > (<大塚光 最後のメッセージ>)
Shouri no Seal (勝利のシール)
< Otsuka Hikaru Kara Palet e > (<大塚光からpaletへ>)
Bonus

Mune no Button (MV)
Shouri no Seal (勝利のシール) (MV)
Sugiteiku Subete ni (過ぎていく全てに) (MV)
Hello, Palet 15-second Spot
Hello, Palet 30-second Spot
Seven Destiny 15-second Spot
Seven Destiny 30-second Spot