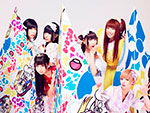 Dempagumi.inc performed the opening theme song for the anime series Niyuru Niyuru!! Kakusen Kun (にゅるにゅる!!Kakusenくん).
The song is titled Nyuru Nyuru Miracle (にゅるにゅるミラクル).
Niyuru Niyuru Kakusen Kun started airing on Yomiuri TV (読売テレビ) on July 8. It is also broadcast weekly on Tokyo MX and BS12 TwellV networks.
The anime is produced by DLE.
Check out the interview of Dempagumi.inc and the opening.
Video