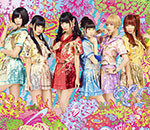 Dempagumi.inc's new single Otsukare Summer! (おつかれサマー!) will be released on June 17.
The lyrics and the music of the title song were written in collaboration by Kitagawa Yujin (Yuzu) and Maeyamada Kenichi (aka Hyadain) who usually works for Dempagumi.inc.
The music was arranged by Tom-H@ck who worked for the anime K-On!.
It is a summer and up-tempo song.
The regular and the Type A editions include Punch Line by Shokotan♥Dempagumi, a special idol unit consisting of Nakagawa Shoko and Dempagumi.inc. It is the opening theme for the anime of the same name.
The Type B's coupling song is Munasawagi no Himitsu?! (ムなさわぎのヒみつ?!). It is a girly pop tune about trouble with love. The lyrics were written by Nobe. The music was composed and arranged by Myoshi Keita.
Furthermore, Dempagumi.inc WWD Daibouken Tour 2015 is being held from March 20 to May 1.
Tracklist
Regular Edition / Type A

CD

Otsukare Summer!
Punch Line / Dempagumi♥Shokotan

DVD (A)

Otsukare Summer! (Music Video)
Type B

CD

Otsukare Summer!
Munasawagi no Himitsu?! (ムなさわぎのヒみつ?!)

DVD

Munasawagi no Himitsu?! (Music Video)