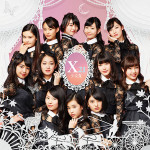 X21's 1st album Shoujo X (少女X) will be released on April 29.
This album contains 13 tracks including X21's latest singles and new songs.
Check out the MV for Shoujo X.
The limited edition comes with a bonus DVD featuring 7 music videos, an off-shot movie, and footage from the concert of the idol group in Osaka.
Furthermore, X21 First Live & Document Vol.1 is on sale since March 18. This documentary is about the first 2 years of activity of X21. In addition, it includes the video of their 1st one-man live held in August 2014 at Mt. Rainier Hall Shibuya Pleasure Pleasure, Tokyo.
Tracklist
CD

Overture
Shoujo X (少女X)
Go! Go! X21 ~Doki Doki Hatsu Toukou~ (Go! Go! X21~ドキドキ初登校~)
Chime Nattara… (チャイム鳴ったら…)
Sekigae Wink (席替えウインク)
Asu e no Sotsugyou (明日への卒業)
Koi Suru Natsu! (恋する夏!)
Happy Appli (ハッピーアプリ)
X Gift (Xギフト)
Gwiyomi Song (キヨミ・ソング)
Tsura Kunai yo (ツラくないよ)
Best Friend
Material Girl (マテリアルガール)
DVD

Shoujo X (Music Video)
Asu e no Sotsugyou (Music Video)
Koi Suru Natsu! (Music Video)
Happy Appli (Music Video)
X Gift (Music Video)
Gwiyomi Song (Music Video)
Best Friend (Music Video)
Shoujo X (Off-shot)
2014.9.20 Live Happy Jam in Osaka Best Selection
Music Video (PV)