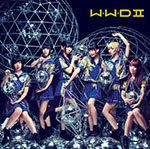 Dempagumi.inc's new single W.W.D II will be released on October 2.
The coupling song is Dempagumi.inc's latest digital single Not Bocchi… Natsu (ノットボッチ…夏) which is on sale since July 16.
The limited editions Type A and B come with a DVD featuring the music video and bonus footage.
The remix edition includes 2 remix versions of both songs.
It is the theme song for the movie Shiro Majo Gakuen (白魔女学園) starring Dempagumi.inc members.
The lyrics of W.W.DⅡ were written by Yamada Kenichi. The music was arranged by Tsuri Shunsuke (Agehasprings).
Regular Edition
CD

W.W.D II
Not Bocchi… Natsu (ノットボッチ…夏)
W.W.D II (Instrumental)
Not Bocchi… Natsu (ノットボッチ…夏) (Instrumental)
Limited Edition Type A
CD

W.W.D II
Not Bocchi… Natsu (ノットボッチ…夏)
W.W.D II (Instrumental)
Not Bocchi… Natsu (ノットボッチ…夏) (Instrumental)
CD

W.W.D II (Music Video)
Bonus footage
Limited Edition Type B
CD

W.W.D II
Not Bocchi… Natsu (ノットボッチ…夏)
W.W.D II (Instrumental)
Not Bocchi… Natsu (ノットボッチ…夏) (Instrumental)
CD

W.W.D II (Music Video)
Bonus footage
Limited Edition Remix
CD

W.W.D II
W.W.D II (Remix 1)
W.W.D II (Remix 2)
Not Bocchi… Natsu (ノットボッチ…夏)
Not Bocchi… Natsu (ノットボッチ…夏) (Remix 1)
Not Bocchi… Natsu (ノットボッチ…夏) (Remix 2)
Limited Edition Nazokara
CD

W.W.D II
Not Bocchi… Natsu (ノットボッチ…夏)
W.W.D II (Instrumental)
Not Bocchi… Natsu (ノットボッチ…夏) (Instrumental)
Music Video (PV)