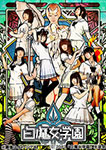 The movie Shiro Majo Gakuen (白魔女学園) starring Dempagumi.inc will be released on DVD and Blu-ray on December 25.
The story is about new students arriving at White Witch Academy (Shiro Majo Gakuen) to study witchcraft and magic.
The main characters are played by Dempagumi.inc members Aizawa Risa, Furukawa Mirin, Yumemi Nemu, Naruse Eimi, Fujisaki Ayane, and Mogami Moga. It is described as a horror action movie.
Check out the trailers.