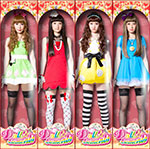 Doll☆Elements' 2nd single Kimi no Koto Mamoritai! (君のコト守りたい!) will be released on October 16.
The CD contains 2 songs and their instrumental versions.
5 editions are available with different jackets : 1 for all the members of the group, and 4 others for each one of them (Tonosaki Rika, Kojima Runa, Gonda Natsumi, and Ayamori Aoi).
It is the last single of Doll☆Elements with Ayamori Aoi as she is going to graduate from the idol group on December 17.
Auditions will be held in November to recruit the 2nd generation members.
Tracklist
Kimi no Koto Mamoritai! (君のコト守りたい!)
Super ×2 Beautiful (スーパー×2 ビューティフォー)
Kimi no Koto Mamoritai! (君のコト守りたい!) (Instrumental)
Super ×2 Beautiful (スーパー×2 ビューティフォー)