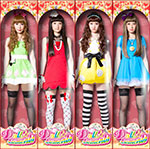 Doll☆Elements' 2nd single Kimi no Koto Mamoritai! (君のコト守りたい!) will be released on October 16.
The CD contains 2 songs and their instrumental versions.
5 editions are available with different jackets : 1 for all the members of the group, and 4 others for each one of them (Tonosaki Rika, Kojima Runa, Gonda Natsumi, and Ayamori Aoi).