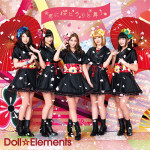 The new single of Doll☆Elements Kimi ni Sakura Hirari to Mau (君に桜ヒラリと舞う) was released on January 7.
This is the 5th single of the idol group. The previous single is Kimi no Negai Kanaetai!, it was released last July.
The tracklist and the music video were revealed.
The single is available in several editions : a regular one and five limited one rated A, B, C, D and E. The covers are different on each edition. The ones on the limited editions represent one member of the group.
The single contain three new songs : la title song Kimi ni Sakura Hirari to Mau, two B-side new songs and their instrumental versions. The limited editions contain the same tracklist with one differente B-side song.
Discover below the music video of Kimi ni Sakura Hirari to Mau.
Tracklist
Regular Edition CD

Kimi ni Sakura Hirari to Mau (君に桜ヒラリと舞う)
Taitoru Mitei (タイトル未定)
NEW BEGINNING
Kimi ni Sakura Hikari to Mau (Instrumental)
Taitoru Mitei (Instrumental)
NEW BEGINNING (Instrumental)
A, B, C, D, E Limited Editions CD

Kimi ni Sakura Hirari to Mau (君に桜ヒラリと舞う)
TAKE AWAY
Hello Hello
Kimi ni Sakura Hikari to Mau (Instrumental)
TAKE AWAY (Instrumental)
Hello Hello (Instrumental)
Music Video (PV)