Manaminorisa is an idol group from Hiroshima. They recently moved to Tokyo.
Formed in 2007, the unit consists of Manami, Minori and Risa.
We talked with them on various topics such as their activities, their future projects, their memories, their desire to hold concerts overseas…
Check out our interview with the members of Manaminorisa (まなみのりさ).
Could you introduce yourselves ?
– Manami : I'm Manami.
– Minori : I'm Minori.
– Risa : I'm Risa.
– We are Manaminorisa!
What is the concept of the unit ?
– Minori : We are 3 girls. The concept is singing, dancing and attracting. We sing together and we do our best to have a very good harmony.
Could you say a few words about your latest single Sakura Etranger (桜エトランゼ) which was released in July ?
– Manami : This is a song for Spring. The theme is sadness.
– Minori : If you listen to this song a second time, you tend to feel better the emotions like tears. This song is really emotional.
– Risa : We created the dance choreography by ourselves. While dancing, we take our skirt on the edge and we move it to look like cherry blossoms.
– Minori : The music video is expressing sad emotions. It is not really a movie as there are just pictures. So, the people who listen to that song can focus on the lyrics and the music.
– Manami : Japanese cherry blossoms are known worldwide as being beautiful. We hope that you enjoy it.
What are the future projects of Manaminorisa ?
– Risa : We would like to hold regular acoustic live performances in the future. We have already done it twice and we like it.
– Minori : An acoustic version changes the atmosphere of the songs. Listeners can enjoy other aspects of them.
– Manami : When we sing, we have our own musical intervals (low, medium, high). Even if we are 3 people, we keep this harmony in acoustic versions.
– Manami : We want fans from all over the world to see our shows. Some of them have already come to attend our concerts. We are grateful and we would like to go to foreign countries.
– Minori : We hold acoustic live performances. We have also uploaded dance movies on YouTube. We would like that people enjoy our singing and dancing activities everywhere in the world.
– Risa : We have a Ustream channel, too. We use it for communication in addition to YouTube.
You studied at the Actors School Hiroshima like other famous artists (Perfume, Morning Musume's Sayashi Riho…). What memories do you have of this period ?
– Minori : We graduated from Actors School Hiroshima 2 years ago. We especially studied things like concentration. We struggled a lot in training.
What is your best memory since your debut ?
– Manami : It was when Manaminorisa won the U.M.U. Award in 2011. We were in competition with other Japanese idol groups. We fought against them and finally we won the Grand Prize. So that was a big memory.
– Minori : We participated in a 26-hour television show 5 years ago. That was very fun. The program was broadcast nationwide across Japan.
– Risa : We debuted in Hiroshima 7 years ago, but we recently moved to Tokyo. Our fans were really sad because we left Hiroshima. They said that we would miss them. So we do our best on stage to thank them.
Do you have other activities as actresses or models ?
– Minori : We don't have any other activities because we want to focus on singing and dancing. We don't reject other jobs, but it is not our priority.
What are your goals for the future ?
– Minori : We want to hold live performances worldwide. That is a big goal for the future. We would also like to create Manaminorisa style by singing and dancing.
Do you have a message for your fans ?
– Minori : Thank you for cheering us. We want to go overseas to meet our foreign fans. Please watch our videos on YouTube and Ustream.
We thank the members of Manaminorisa and their staff for this interview.
Photos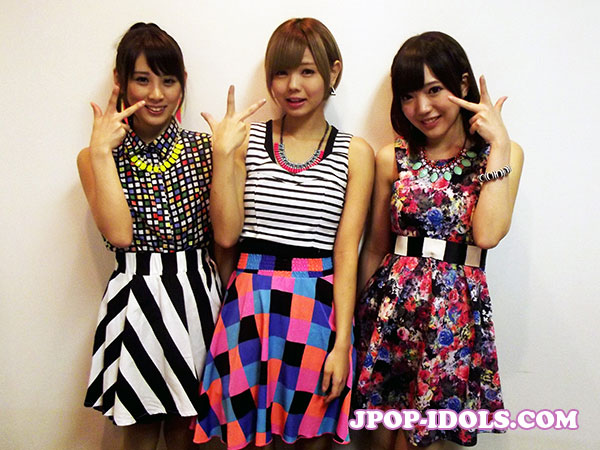 Videos
Sakura Etranger (桜エトランゼ)
Polaris Episode Zero (ポラリス Episode ZERO) Dance Shot Movie
Polaris Ab (ポラリスAb) Dance Shot Movie
Manaminorisa Dance Shot Movie Trailer