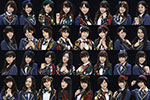 The creation of NGT48, a new sister unit of AKB48, has been announced.
NGT48 will be based in Niigata in the prefecture of the same name.
The auditions to recruit new members will be held in March.
NGT48 Theater will open on October 1, 2015.
Further details will be announced later on AKB48 website.
The creation of this new idol group was announced on January 25 during AKB48 Request Hour Setlist Best 1035 2015 held at Tokyo Dome City Hall.