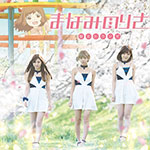 Manaminorisa's new single Sakura Etranger (桜エトランゼ) is on sale since July 26.
This is the character image song for Aki Mahiru from the OVA anime Sakura Capsule (サクラカプセル).
The CD contains 5 songs including 2 instrumental versions and a bonus track. Only one edition is available.
Furthermore, local idol group Manaminorisa will hold several live performances in Hiroshima in August.
Tracklist
Sakura Etranger (桜エトランゼ)
13 Nichi no Patissier (13日のパテシエ)
Sakura Etranger (桜エトランゼ) (Instrumental)
13 Nichi no Patissier (13日のパテシエ) (Instrumental)
Mata Aou (また会おう) (Bonus Track)