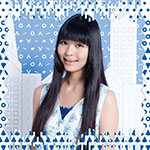 Terashima Yufu's 2nd single Campanula no Yuuutsu (カンパニュラの憂鬱) will be released on August 6.
The trailer and a part of the music video have been unveiled.
This single is produced by Jane Su who worked with idol groups such as Tomato n' Pine and Negicco.
She wrote the lyrics of Campanula no Yuutsu (カンパニュラの憂鬱). The music was composed and arranged by Rionos.
Terashima Yufu worked in collaboration with choreographer Takenaka Natsumi on latin dance.
On the B-side, she performed a cover of the popular song Daisuki (だいすき) by Okamura Yasuyuki.
The limited editions include a DVD with either Terashima Yufu Live at Shibuya O-Nest or other bonus footage.
Terashima Yufu is a former member of BiS.
Tracklist
CD

Campanula no Yuutsu (カンパニュラの憂鬱)
Daisuki (だいすき)
80 Denier no Koi (80デニールの恋)
DVD (Type A)

2014.3.8 Terashima Yufu Jishu Kikaku at Shibuya O-Nest Live (2014.3.8 寺嶋由芙自主企画at渋谷O-Nestライブ映像)
DVD (Type B)

1st Single "Zenzen" wo Yuffie ga Cosplay de Odottemita (1stシングル収録「ぜんぜん」をゆっふぃーがコスプレで踊ってみた)
Video