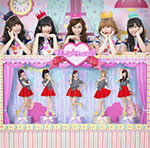 Doll☆Elements' 1st album Watashitachi Itsudemo Kimi no Mikata Da yo Doll☆Elements Desu! (私たちいつでも君の味方だよ Doll☆Elementsです!) will be released on October 1st.
2 versions are available. Each CD contains 12 different songs.
The teaser video has been released.
Furthermore, Doll Elements 6th one-man Live was held on September 21st at Tsutaya O-West, Tokyo. The event was sold out.
A concert tour is scheduled in November in Sendai, Osaka and Nagoya.
Tracklist
Doll Edition

overture
Kimi no Koto Mamoritai! (君のコト守りたい!) -Album Edit-
Kimi no Heart ni Tokihanatsu! (君のハートに解き放つ!) -Album Edit-
Kimi no Yorokobi wo Kurumitakute! (君のヨロコビを包みたくて!)
Baby Baby
Koi Shite Macaron (恋してマカロン)
Suki Nano?! Kirai Nano?! (スキなの?!キライなの?!)
Super ×2 Beautiful (スーパー×2 ビューティフォー) -Album Edit-
Kimi no Negai Kanaetai! (君のネガイ叶えたい!)
Bad Girl!!
Kimi no Tonari de Odoritai! (君のトナリで踊りたい!)
12. Kira Kira Shiny (キラキラ☆シャイニー) -Album Edit-
Elements Edition

overture
I will be・・・
Double
Judgment
It's my turn
Soredake de Kitto Shiawase (それだけできっと幸せ)
Let's get love
Shinjirutte Kimeta Hazu na no ni (信じるって決めたはずなのに)
Daisuki Dakara (大好きだから)
with you…
Kimi wa 10 Ten (君は100点)
Soshite! I love you… (そしてI love you…)
Video