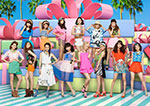 E-Girls' new single Dance Dance Dance will be on sale on September 30.
It is a disco funk song featuring a new sound and style for the Japanese girl group.
The curtain has been raised on the MV.
The members of E-Girls are dressed in glamorous and sexy costumes. They are performing on stage in a fictional club. Yurino explained that the choreography had various steps including EG Roller, EG 2-3 and moonwalk.
Furthermore, E-Girls are going to be the guest artists of the Kobe Collection 2015 Autumn Winter (神戸コレクション2015A/W) event on September 5.
Tracklist
Music Video (PV)