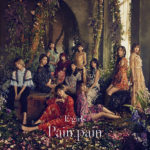 E-Girls released their new single Pain, pain on February 28.
This is the 22nd single by E-Girls.
The song Pain, pain is  a ballad. It was used as the theme song of the drama Kimi ga Kokoro nor Sumi Tsuita broadcast on TBS.
The MV is filled with colors, flowers and girls wearing lovely outfits.
The single is sold in several editions.
The track listing is different depending on the edition.
The DVDs will contain the music video and its making.
Tracklist
Regular Edition

CD

Pain, pain
DYNAMITE GIRL
LOVE
THE NEVER ENDING STORY ~Kimi ni Himitsu wo Oshieyou~ (THE NEVER ENDING STORY ~君に秘密を教えよう~)
Pain, pain (Instrumental)
DYNAMITE GIRL (Instrumental)
LOVE (Instrumental)
THE NEVER ENDING STORY ~Kimi ni Himitsu wo Oshieyou~ (Instrumental)
"Limited" and "CD+DVD" Editions

CD

Pain, pain
DYNAMITE GIRL
LOVE
THE NEVER ENDING STORY ~Kimi ni Himitsu o Oshieyou~  (THE NEVER ENDING STORY ~君に秘密を教えよう~)
Pain, pain (Instrumental)

DVD

Pain, pain (Music Video)
Making of Pain, pain (Making Of)
Music Video (PV)