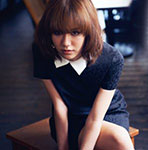 Endo Mai's 1st solo single Today is the Day will be released on July 31 which is also the date of her birthday.
The Type A edition includes a DVD featuring making-of footage and an interview.
The Type B edition come with a 16-page photobook and contains a bonus track.
Endo Mai, the leader of Idoling!!!, is the 2nd member of the group to make her solo debut after Yokoyama Rurika in June.
It is the theme song for the online game Dragon's Prophet.
Type A
CD

Today is the Day
Toumei na Shiro (透明な白)
DVD

Prologue of "Today is The Day"
Type B
CD

Today is the Day
Toumei na Shiro (透明な白)
Lily
Type C
CD

Today is the Day
Toumei na Shiro (透明な白)