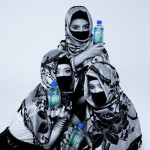 Especia will release their new EP Mirage on August 10.
This is the 4th mini album of the idol group.
The group changed line-up many months ago. The members Chika Sannomiya, Chihiro Mise et Monari Wakita graduated on March 3 after the group's decision to move from Osaka to Tokyo.
A new member Mia Nascimento joined the group a few months later, in June. She made her first appearance on this album.
The group also changed logo.
The album Mirage contains 4 tracks CD ; the titles are available on SoundCloud and OTOTOY.
The DVD of the limited edition will contain a video of the one-man tour of Especia (still 5 members at this time), "Especia "Estrella" Tour 2015", held in last January held in Tokyo and Shinkiba at STUDIO COAST.
The clip Savior has been put online. Check it out below.
Tracklist
CD

Savior
Affair
Heli

x

Nothing
DVD

2016/1 "Estrella Tour -Viva Final-" @STUDIO COAST
Music Video (¨PV)