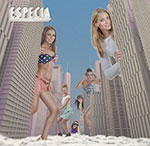 Especia's new single Ya・Me・Te! / Adventure wa Kiniro ni (Ya・Me・Te! / アバンチュールは銀色に) will be released on January 8.
This is the 2nd single from Especia. It is a double A-side.
The music videos have been released.
Ya・Me・Te! is a "90s fusion pop" song.
Adventure wa Kiniro ni (アバンチュールは銀色に) is a "cute disco" song.
2 editions are available. The CD includes 3 songs and their instrumental and acappella versions.
The limited edition includes live footage of Especia's concert Bailas con Especia held on August 18, 2013 at Shibuya WWW.
Tracklist
CD

Ya・Me・Te!
Adventure wa Kiniro ni (アバンチュールは銀色に)
Ame no Parlor (雨のパーラー)
Ya・Me・Te! (Instrumental)
Adventure wa Kiniro ni (アバンチュールは銀色に) (Instrumental)
Ame no Parlor (雨のパーラー) (Instrumental)
Ya・Me・Te! (Acappella)
Adventure wa Kiniro ni (アバンチュールは銀色に) (Acappella)
Ame no Parlor (雨のパーラー) (Acappella)
DVD (Limited Edition)

Tokyo Live (東京ワンマン) 「Bailas con Especia」 2013年08月18日@Shibuya WWW
Music Video (PV)