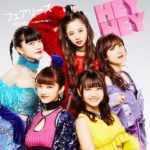 Fairies will release their new single Hey Hey ~Light Me Up~ on February 28.
This is the 16th single of the idol group Fairies.
Check out the MV below.
The single is available in several editions.
The DVD of one of the editions will contain the video clip and an additional video.
The Cardboard Sleeve edition DVD will feature a video of the last Fairies tour, behind the scenes.
"Nominative" limited editions are also available. The CD of these editions contains a different list of titles.
Tracklist
CD

Hey Hey ~Light Me Up~
Mamacita
Hey Hey ~Light Me Up~ (Instrumental)
Mamacita (Instrumental)
Nominative limited editions CD

Hey Hey ~Light Me Up~
Mamacita
DVD

Hey Hey ~Light Me Up~ (Music Video)
Hey Hey ~Light Me Up~ (Music Video Offshoot)
DVD (Cardboard Sleeve)

Fairies LIVE TOUR 2017-STAR- Behind The Scenes
Music Video (PV)