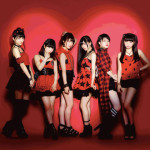 Fairies' 11th single Soushi Souai Destination (相思相愛☆destination) will be on sale on July 15.
As you might have guessed, it is a love song about mutual love.
The music video, the visual artwork, the covers and the new profile picture of Fairies have been unveiled.
The members of the idol group appear under a heart-shaped spotlight. The girls wear black and red outfits.
Ijishi Hiromasa wrote the lyrics and composed the music of Soushi Souai Destination.
He also produced the coupling song Honey Vacation.
In addition, Fairies are going to hold a series of live performances in Tokyo and Kanagawa Prefecture from May 30 to July 12 in order to promote this release.
Tracklist
CD

Soushi Souai Destination (相思相愛☆destination)
Honey Vacation
Soushi Souai Destination
DVD

Soushi Souai Destination (Video Clip)
Making-of
Music Video (PV)