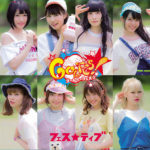 FES☆TIVE will release their new single Go to Fes☆ (ゴートゥーフェス☆) on July 26.
This is the 5th single of the idol group.
Shiraishi Piano and Mano Saria make their first appearance on a record of FES☆TIVE. They joined the group on January 19 but did not participate in the recording of the single Disco Rettou Ukiyo no Yume released in February ; they replaced members Shiina Akari and Yokoi Honami who graduated in January.
The short version of the MV was unveiled.
The track Go to Fes☆ is a summer song.
It will be available in 3 versions under the Tokuma Japan label.
The songs on the third track vary according to the editions.
Tracklist
Type A

CD

Go to Fes☆ (ゴートゥーフェス☆)
BELIEVE !
Yakusoku no Ondo (約束の温度)
Type B

CD

Go to Fes☆ (ゴートゥーフェス☆)
BELIEVE !
Homura no Shizuku (ホムラノシズク)
Type C

CD

Go to Fes☆ (ゴートゥーフェス☆)
BELIEVE !
Manatsu no Yonetsu (真夏の余熱)
Music Video (PV)