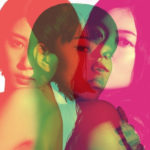 callme will release their new single One time on August 9.
This is the 5th single of the idol group.
The music video is made up of a large variety of artistic shots featuring the members of callme dancing in a hallway full of hanging lights, covered in colorful body paint, and going through dark hallways.
The single will be released in 6 editions: 3 ones called Type A (CD+DVD), Type B (CD+DVD) and Type C (CD) ; and 3 editions for each member (Koumi, Ruuma, Mimori) to be on sale at the mu-mo shops.
The tracklists are different depending on the edition.
Tracklist
Type A

CD

One time
Way I am
One time (Instrumental)
Way I am (Instrumental)

DVD

One time (Music Video)
Type B

CD

One time
Way I am
One time (Instrumental)
Way I am (Instrumental)

DVD

callme time (Off Shot Movie)
Type C

CD

One time
Peaceful world
Way I am
One time (Instrumental)
Peaceful world (Instrumental)
Way I am (Instrumental)
Type D – KOUMI (mu-mo)

CD

One time
Keep trying
One time (Instrumental)
Keep trying (Instrumental)
Type E – RUUMA (mu-mo)

CD

One time
Touch the sky
One time (Instrumental)
Touch the sky (Instrumental)
Type F – MIMORI (mu-mo)

CD

One time
No more
One time (Instrumental)
No more (Instrumental)
Music Video (PV)