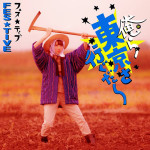 FES☆TIVE released the cover of Ikuzo Yoshi's hit song Ora Tokyo Sa Iguda (俺ら東京さ行ぐだ) on November 25 on Recochoku and iTunes. The original track was released on the same date, November 25, in 1984.
It is also worth noting that each of the FES☆TIVE members (excluding Yokoi Honami) poses for a parody jacket photo on Recochoku.
Matsuri-themed idol unit FES☆TIVE has seen some great breakthroughs in 2016; from their third single Go Zipang (進めジパング ; Susume Zipangu) reaching #10 on the Oricon Weekly Chart, the release of their first album Wasshoi Record (ワッショイレコード), to performing at Idol Fest.
In addition, FES☆TIVE's next single will be on sale on February 22, 2017.
A word from Ikuzo Yoshi: "It seems that you had your eyes on something unusual!"
A word from Sakamoto Yuna of FES☆TIVE: "I had heard my dad sing Ikuzo Yoshi's Tokyo Sa Iguda at karaoke, so it was such an honor to cover a song that I knew, and my parents were also very happy!
The country drawl lyrics were a bit challenging, but because we knew the song, the recording process went more smoothly than expected.
Just as our sempai at Tokuma Japan Communications created a timeless song, we want people to listen to our FES☆TIVE cover in years to come. We have preserved some of the country twang, weaved with a more modern sound, and are working on dance moves to be performed at live shows. We hope our fans will join in!"