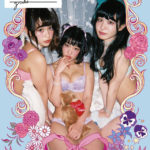 In April, 4 out of 8 members of idol unit FES☆TIVE tried their hand at gravure modeling.
FES☆TIVE evokes visions of the group's energetic live performance which have taken the idol scene by storm. However, in 2017, we shift our focus to the lives of the individual members as they pose for gravure photos.
The 4 FES☆TIVE members who have forayed into the world of gravure idols are Aoba Hinari, Sakamoto Yuna, Suzuki Kotone, and Shiraishi Piano.
Aoba Hinari was featured in her first photography book, Hinari and Snowy Scenes and Onsen Steam, released on April 4th. As the title suggests, the book takes you on a sleepover date with Aoba Hinari through a winter wonderland, featuring photos of building snowmen, onsen yukatas, Aoba Hinari wearing only a bath towel, and even one of her soaking in a relaxing hot spring. The photobook is available in 5 cover variations, and is priceless among the fans of Aoba Hinari, idols and gravure photography.
Sakamoto Yuna, Suzuki Kotone, and Shiraishi Piano are featured in Girl-Vure ~Girls Gravure~, a publication created exclusively by collegiate women for women. For Sakamoto Yuna and Shiraishi Piano, this is their first experience as gravure idols. Among the 72 pages, FES☆TIVE members are featured in 30 pages in solo shots and friendly group photos. While the models are wearing lingerie, ~Girls Gravure~ keeps things tasteful to cater towards female audiences, and allows you to see the more intimately sexy and sweet sides of FES☆TIVE you wouldn't see during live performances.
FES☆TIVE has stated that their goal for 2017 is to "make new gains in [their] personal careers"; it seems like they are doing just that. Sakamoto Yuna and Suzuki Kotone have expressed interest in continuing their gravure modeling careers.