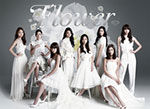 Flower's 1st album Flower will be released on January 22.
2 editions are available. The tracklist is the same for each one of them.
The CD contains 13 songs including their latest singles.
The MV for Let Go Again feat. Verbal (m-flo) has been released.
The limited edition comes with a bonus DVD featuring 7 music videos and a documentary.
Moreover, Flower's new single Shirayuki Hime (白雪姫) will be on sale on December 25.
Tracklist
CD

Still
forget-me-not ~Wasurenagusa~ (~ワスレナグサ~)
Let Go Again feat. Verbal (m-flo)
Taiyou to Himawari (太陽と向日葵)
Fadeless Love
Your Gravity
Boyfriend (Moonlight Version)
To Be Free!!
Koibito ga Santa Claus (恋人がサンタクロース)
Shirayuki Hime (白雪姫)
Sakura Regret (Sakuraリグレット
Hatsukoi (初恋)
Call
DVD (Limited Edition)

Still (Music Video)
Sakura Regret (Sakuraリグレット) (Music Video)
forget-me-not ~Wasurenagusa~ (~ワスレナグサ~) (Music Video)
Koibito ga Santa Claus (恋人がサンタクロース) (Music Video)
Taiyou to Himawari (Music Video) (太陽と向日葵) (Music Video)
Shirayuki Hime (白雪姫) (Music Video)
Hatsukoi (初恋) (Music Video)
Flower Documentary
Video (Trailer)
Music Video (PV)