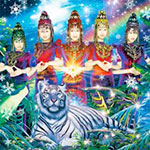 Momoiro Clover Z will release their special Christmas single Naichaisou Fuyu / Hagane ni Ishi (泣いちゃいそう冬 / 鋼の意志).
This single is a limited edition which will be only on sale at the live White Hot Blizzard Momoiro Christmas 2013 Bishiki Gokkan no Sekai (美しき極寒の世界) scheduled on December 23 at Saitama Seibu Dome and on King e-Shop website.
The artwork was made in collaboration with the artist Christian Lassen.
Naichaisou Fuyu was written and composed by Hirose Kohmi.
Hagane no Ishi was written and composed by Takamizawa Toshihiko.
Tracklist
Naichaisou Fuyu (泣いちゃいそう冬)
Hagane ni Ishi (鋼の意志)
Naichaisou Fuyu (泣いちゃいそう冬) (Instrumental)
Hagane ni Ishi (鋼の意志) (Instrumental)