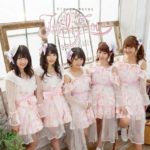 Flower Notes are back this summer.
They will release their 2nd single Let It Flow on July 19.
Fuji Aine left Flower Notes on June 4 ; She did not participate in the recording.
The MV has been unveiled.
It will be sold in two versions. The CDs are different depending on the edition (the songs are different from the 3rd track).
Tracklist
Edition A CD

Let It Flow
Stay Gold
Sweet Pea (スイートピー)
Let It Flow (Instrumental)
Stay Gold (Instrumental)
Sweet Pea (Instrumental)
Edition B CD

Let It Flow
Stay Gold
Lovin' you….
Let It Flow (Instrumental)
Stay Gold (Instrumental)
Lovin' you… (Instrumental)
Music Video (PV)