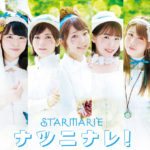 Starmarie have released their new single Natsu ni Nare! (ナツニナレ!) on July 4.
This is the 12th single of the dark fantasy idol group Starmarie.
This is the theme of the ending of the anime Card Fight !! Vanguard G NEXT (カードファイト!! ヴァンガードG NEXT) broadcast on TV Tokyo.
The new single from Starmarie will be released with 4 different pockets.
The members wear white gothic lolita dresses and the pockets contain the live colors of summer, hence the theme.of the single.
Kitta Izumi wrote the lyrics to the song Natsu ni Nare!.
Tracklist
CD

Natsu ni Nare! (ナツニナレ! )
Watashi no Inai Sekai de Kimi wa Ashita wo Mukae Rareru? (私の居ない世界で君は明日を迎えられる?)
Natsu ni Nare! (Instrumental)
Watashi no Inai Sekai de Kimi wa Ashita wo Mukae Rareru? (Instrumental)
Video