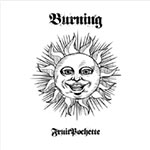 Fruitpochette's new single Sakuretsu -Burning- (炸裂 -Burning-) will be released on February 26.
This is the 1st single from Fruitpochette.
It will be on sale on the same day as Gekkou -Destruction- (月光 -Destruction-).
Only one edition is available.
The songs are a mix of pop melodies and metal sound.
The idol group was formerly known as Frupoche.
Tracklist
Gekkou -Destruction- (月光-Destruction-)
Shikkoku -Dahlia- (漆黒-Dahlia-)