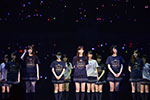 Nogizaka46's 3rd stage play 16-nin no Principal Trois (16人のプリンシパル trois) will be performed from May 30 to June 15 at Akasaka ACT Theater in Tokyo.
The announcement was made at Nogizaka46 2nd Year Birthday Live held at Yokohama Arena.
Captain Sakurai Reika commented : "'Principal' stage plays are hard to perform, but each time it's getting a lot to gain". Ikuta Erika added : "We don't know the theme yet, but I am already excited about it".
Further details about 16-nin no Principal Trois will be announced later.
It should be noted that the title of Nogizaka46's 8th single, Kizuitara Kataomoi (気づいたら片想い), was announced too. The CD will be released on April 2.
Nishino Nanase will stand at the center position for the first time. She told her enthusiasm : "I will do my best".