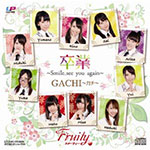 Fruity's new single Sotsugyou (卒業) is released on October 25.
Only one edition is available. The CD contains 2 songs and their instrumental versions.
It is the 11th single from Fruity.
Furthermore, the members of the idol group participate in a new TV show broadcast on UHB in Hokkaido since October 9.
The live Fruity Basket Vol.40 (フルーツバスケットVol.40) will be held on October 27 at Sound Lab Mole in Sapporo.
Tracklist
Sotsugyou ~Smile See You Again~ (卒業 ~Smile See You Again~)
Gachi ~ガチ~
Sotsugyou ~Smile See You Again~ (卒業 ~Smile See You Again~) (Instrumental)
Gachi ~ガチ~ (Instrumental)