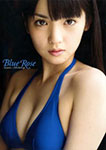 Michishige Sayumi will release her new photobook Blue Rose on October 27.
It is the sequel of her previous photobook Mille-Feuille (美ルフィーユ). Michishige Sayumi shows her adult side through photos highlighting her beauty.
The pictures were taken by Nishida Kouki.
Blue Rose will also go on sale on DVD on December 15. It includes making-of footage.
Moreover, Michishige Sayumi became the member of Morning Musume with the longest tenure. She has beaten the record of Niigaki Risa who was part of the idol group during 3919 days.