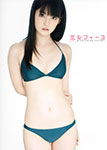 Michishige Sayumi's photobook Mille-Feuille (美ルフィーユ) will be released on January 27.
The photobook contains photos of Morning Musume's leader in various situations and outfits.
The title, Mille-Feuille, is a word play with the Japanese kanji "美" (pronounced "mi") meaning "beauty" and the French pastry "mille-feuille".
Michishige Sayumi joined Morning Musume 10 years ago as a 6th generation member.