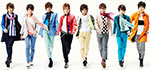 Fudanjuku's new single Dansou Revolution (男装レボリューション) will be released on September 18.
This single celebrates the 5th anniversary of Fudanjuku.
The regular edition contains 3 songs and their instrumental versions.
The limited editions include only 2 tracks. They come with a bonus DVD featuring either the music video or its making-of.
Regular Edition
CD

Dansou Revolution (男装レボリューション)
Cocktail on the Beach (カクテル・オン・ザ・ビーチ)
Dai Koukai Boy (大航海ボーイ)
Dansou Revolution (男装レボリューション) (Instrumental)
Cocktail on the Beach (カクテル・オン・ザ・ビーチ) (Instrumental)
Dai Koukai Boy (大航海ボーイ) (Instrumental)
Limited Editions
CD

Dansou Revolution (男装レボリューション)
Cocktail on the Beach (カクテル・オン・ザ・ビーチ)
DVD (Type A)

Dansou Revolution (男装レボリューション) (Music Video)
DVD (Type B)

Dansou Revolution (男装レボリューション) (Making-of)
Music Video (Teaser Version)