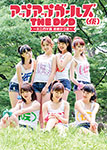 Up Up Girls (Kari) The DVD ~Mini MV Shu Omake Tsuki~ (アップアップガールズ(仮)The DVD ~ミニMV集 おまけつき~) will be released on August 28.
This music video collection contains different versions of the video clips of Up Up Typhoon (アップアップタイフーン) and Uppercut! (アッパーカット!).
It also includes the making-of for a total of 56 minutes of footage.
Furtermore, Up Up Girls' new single Samurai Girls / Waidoru Seven (Samurai Girls / ワイドルセブン) will go on sale on September 4.
Tracklist
Up Up Typhoon (アップアップタイフーン) (Music Video)
Uppercut! (アッパーカット!) (Music Video)
Up Up Typhoon (アップアップタイフーン) (↑↑ Ageteke Ver.)
Uppercut! (アッパーカット!) (Dance Shot Ver.)
Sakura Drive (Late Spring Ver.)
Up Up Typhoon / Uppercut! (アップアップタイフーン/アッパーカット!) (Making-of)