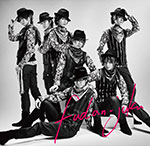 Fudanjuku's new album Power of Wind will be released on March 19.
Power of Wind contains 11 songs including Fudanjuku's latest singles Jinsei Wahaha! (人生わははっ!), Shita wo Muite Kaerou (下を向いて帰ろう), Rikishi-Man, Dansou Revolution (男装レボリューション), and Chenmen Paradise (チェンメン天国).
The coupling song Bokura no Aruku Michi (僕らの歩く道) is the ending theme for the variety show Everybody Haran Bakushow (誰だって波瀾爆笑) airing on NTV (日本テレビ).
The regular edition includes a bonus track.
The limited editions come with a DVD featuring live and bonus footage.
Moreover, Fudanjuku will hold release events from March 18 to 29 in Tokyo, Wakayama, Aichi, and Hyogo Prefectures.
Tracklist
CD

Eye of the Typhoon
Dansou Revolution (男装レボリューション)
Chenmen Paradise (チェンメン天国(パラダイス))
Sensation
Rikishi-Man
Shita wo Muite Kaerou (下を向いて帰ろう)
Kami Hikouki (紙ヒコーキ)
Colorful Printemps (カラフルプランタン)
Jinsei Wahaha! (人生わははっ!)
Bokura no Aruku Michi (僕らの歩く道)
Taiyou Mitai na Kimi ga Suki (太陽みたいなキミが好き)
Galileo ~ wo Koete~ (Galileo~プロキオンを越えて~ )
DVD (Type A)

Fudanjuku Ranbu Tour 2013 at Shibuya Public Hall (風男塾乱舞Tour2013 ~全国12ヶ所 壱ダースの刻~ ダイジェスト映像 @渋谷公会堂)
DVD (Type B)

"Ryoma Sensei no Ninja Kyoushitsu" Kanzenhan 「涼真先生の忍者教室」完全版
Chenmen Paradise (チェンメン天国) (Live @Zepp Tokyo)